Why I'm Running the Amica Newport Half Marathon: Katie Hughes and Maureen Smith
[fusion_tb_featured_slider show_first_featured_image="yes" hover_type="none" lightbox="no" hide_on_mobile="small-visibility,medium-visibility,large-visibility" /]
Maureen and her daughter Katie have started a brand new mother-daughter tradition; having a beach weekend in Newport and running the Amica Newport Half Marathon together. "We have always loved going to the beach together, so we set out to make it a special weekend knowing before we even hit the starting line that this was going to become one of our many special traditions," said Katie.
"I just love the feeling I get running with my daughter, and I think, 'I can really do this!'" Maureen said. Katie and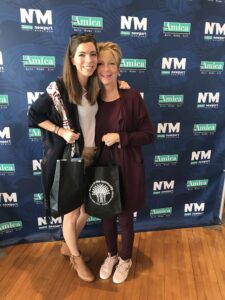 Maureen text each other updates of their training, along with fun emojis to show how they felt — such as a thumbs up or a sweaty tired face.
Maureen and Katie had a great experience running last year, and are looking forward to making this year's race more special. "We had so much fun in 2018, and we are going to make this one even better," Katie said. They ran the last two miles of the race together. Maureen was right by the 3-hour pacer and told him "you can't finish before me!" Sure enough, he helped her cross the finish line just in time helping her accomplish her goal!
When Maureen turned 60, she decided to make her year her "Adventure 60." She bought a treadmill and started on her new adventure of training for her first half marathon. "I love life and am always looking for a new challenge, and with this, I proved to myself that I could succeed in this new adventure and do what others say cannot be done. This year, it's time for round two; here's to 2019!"
See you two at the start line  — we're told matching outfits are in the works!