The Vermont 10 Miler Returns to Stowe on November 3rd
[fusion_tb_featured_slider show_first_featured_image="yes" hover_type="none" lightbox="no" hide_on_mobile="small-visibility,medium-visibility,large-visibility" /]
The third annual Vermont 10 Miler will take place on November 3rd when approximately 1,800 runners will test their mettle and endurance in the challenging, beautiful 10-mile road race. The course runs alongside some of Stowe's most stunning fall scenery. Starting at the Mayo Farm Event Fields, runners will turn left on to Weeks Hill Road, continuing until it turns into Edson Hill Road. At Mile 7, the course joins the Stowe Bike Path for the final 3 miles of pedestrian-only traffic, crossing the West Branch River and finally returning to Mayo Farm for the finish.
The Vermont 10 Miler is produced by Gray Matter Marketing, which also produces the Craft Brew Races 5K and Beer Festival in Stowe in May. A portion of every registration fee from the 2019 Vermont 10 Miler will be donated to the Stowe Land Trust in support of their conservation efforts and mission to preserve and protect Stowe's open spaces.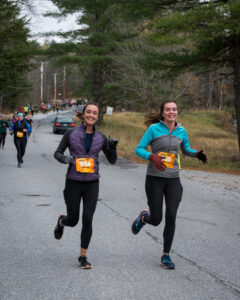 Since its inception in 2017, the race has quickly become a favorite of runners from near and far. "You get an aerial view of the mountains around mile 5 or so, which makes all of the hills in the first half worth it," says Jen Porto, a 2018 participant from Gorham, ME. "Running through the woods and over little wooden bridges, waving to the cows in the meadows, smelling the pine trees, and smiling through the little snow flurries was nothing short of amazing."
"The course is hilly, but it's both positive and challenging," said Heidi Caldwell, from Winooski, VT, after her win in 2017. "It's a great run for everyone, a really great challenge."
2019 finishers will receive a medal and a custom-designed long-sleeve event shirt. Awards will be given for the top three male and female finishers, top finishers in age groups. The Vermont 10 Miler is the third of three events in the 2019 New England 10 Miler Series, which began in April in Portland, Maine. The series then continued to Newport, Rhode Island in June and will culminate in Stowe at the Vermont 10 Miler. Those who completed all three events in 2019 will receive an additional medal and a finishers' running hat upon their finish in Stowe.
Locals can expect minor traffic delays along the course, and local police will be on-site to manage traffic and keep runners safe. Roads will remain open to traffic, with single lanes open in certain places. Drivers are asked to proceed slowly and with caution.
For more information, visit www.vermont10miler.com. A very limited number of registrations remain available, and the event is expected to sell out before race day. The New England 10 Miler Series and the Vermont 10 Miler are already slated to return to Stowe in 2020