Marathoners and Half Marathoners Complete the 2018 Amica Newport Marathon and Half Marathon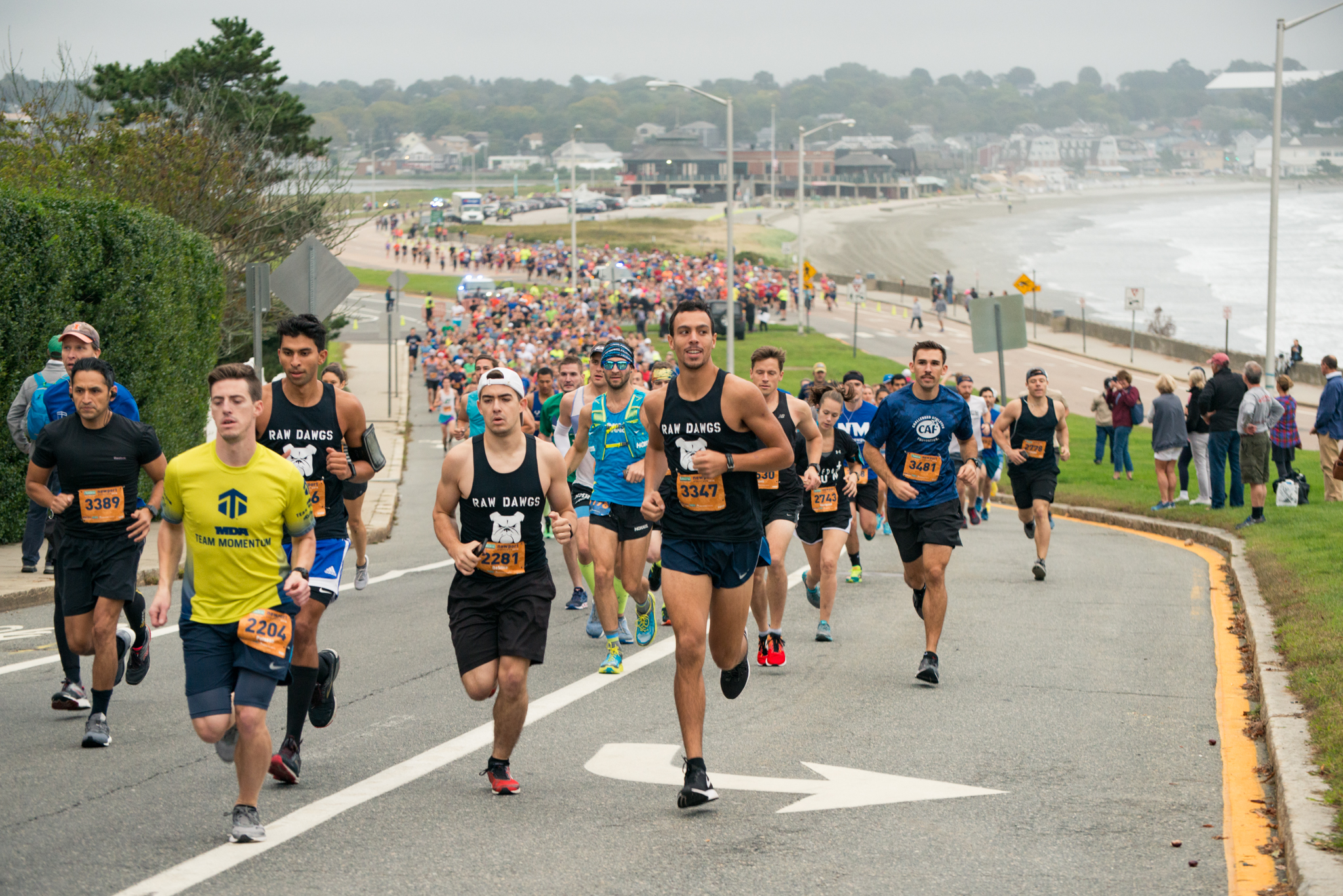 While the overcast weather wasn't ideal for Fall sightseeing, the cooler temperatures were welcomed by the 2,650 runners who completed the Amica Newport Marathon and Half Marathon on Sunday, October 7th.
Ross MacAndrew, from East Greenwich, Rhode Island was the first across the line, winning the half marathon with a time of 1:12:43. "It was a good race, a good day for it, and good weather," said MacAndrew. "I got out into the front in the beginning with someone doing the marathon, and we talked about our pace. I told him I was planning to push it once I got past that first hill. I just did it and didn't look back. I might've gone out a little too quick, so it was tough to hold it together in the middle, but once I got to mile 11 I felt really good." For MacAndrew, the speedy finish was a personal record. "It's a gorgeous view the whole way. The hills make it a really good race."
Four minutes after MacAndrew broke the tape, Sean McNeil, from Avon, Massachusetts claimed second place in the half marathon with a time 1:16:22. In 2017, McNeil won first place in the half marathon with a time of 1:17:51. "Glad to be back," he said after this year's finish. Third place in the half marathon went to James Boeding from West Hartford, Connecticut in 1:16:55.
Kelsi Chappelle won the women's side of the half marathon for the second year in a row, with a time of 1:25:39, smoking her own winning time from last year by more than three and a half minutes. "I'm running today for the Dr. Martin Luther King Jr. Community Center," explained Chappelle, a resident of Portsmouth, Rhode Island. "They do a lot to support the local community around here, dealing with issues like hunger. It's an awesome organization, and I thought of them when I wasn't feeling my best out on the course and it pushed me through." Chapelle's cheering squad for the day included her 7-year-old son, as well as members of the Portsmouth High School Cross Country Team, where she coaches. "I love these Gray Matter Events," she added, saying that she encourages her team to volunteer at the company's events in support of local nonprofits. "They're so great and so supportive. Everyone here is so awesome…they have a special place in my heart."
Kat Morrissey from East Longmeadow, Massachusetts took second place for the women in the half marathon, coming in at 1:26:39. Morrissey was family with much of the course, having won first place in the BankNewport 10 Miler earlier this year. Erin Haynes from Oakham, Massachusetts rounded out the women's half marathon podium at 1:28:02
Stephen Bourget was the marathon winner, finishing in 2:39:55. Bourget, from Sommerville, Massachusetts, was aiming to finish in 2 hours and 40 minutes. "I thought it was beautiful, a pretty quick course," he said of his first marathon. "Going past the mansions, Marble House, all those are pretty nice. But, I was really in my zone." Bobby McDonough from Allston, Massachusetts followed Bourget across the line in 2:50:04, with Matthew Bernier from Barrington, Rhode Island finishing in 2:59:27.
Other notable finishers included a number of participants working towards their 50 State Marathon or Half Marathon Challenge completion. Two couples were engaged at the finish line of the race (both said Yes!). Edmund Pires was the races' sole hand cycle participant, finishing the 26.2 miles in just under two hours, and qualifying him for the Boston Marathon.
The Amica Newport Marathon and Half Marathon will be donating $50,000 in direct donations will be given to the race's official charity partners: The Aquidneck Land Trust, Clean Ocean Access, the Newport County YMCA, Boys Town New England, the Martin Luther King Jr. Center, and the Ronald McDonald House of Providence.
The Middletown and Newport Police Departments were an integral part of managing the racecourse, keeping runners safe and traffic moving. In addition to title sponsor Amica Mutual Insurance, Co., the event was sponsored by KIND Snacks, Run Newport, Polar Seltzer, Cabot Cheese, Newport & Co. Physical Therapy, Gameface Media, Hoka One, Smarty Pants Vitamins, and Hippeas Snacks. The event is produced by Gray Matter Marketing.
For more information, including full results, visit www.newportmarathon.com
The 2019 Amica Newport Marathon will take place on October 13th, 2019. Registration will open in December of 2018.