Kiley Anderson: Breaking "The Intern" Stereotype As Told by a (non) Marathoner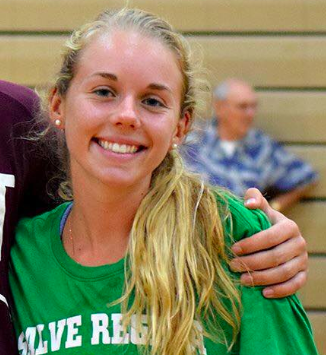 Being "the intern" is so much better than they make it look in the movies. Growing up, I'd watch interns on the big screen sprinting to grab incorrect coffee orders, or dodging moving cars to pick up late dry cleaning. Well, I am here to go against the stereotypes and confidently proclaim: interning with Gray Matter Marketing is a heck of a lot of fun! From working with the team on everything from event production/management and creative marketing analytics to beer bucket washing and truck loading — I have gotten a taste of it all through this unforgettable experience.
My name is Kiley Anderson, a senior Business Administration and Sport Management major at Salve Regina University. Yes, this means I only have one more semester of upholding my "student status" before being kicked out into what they call the real world. I grew up in East Greenwich, Rhode Island, and made the big decision to trek all the way over the bridges to study at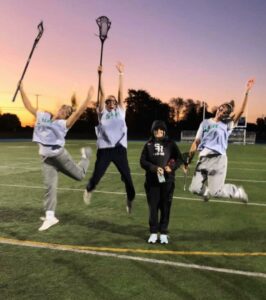 Salve. Growing up in New England has built me to be a natural competitor as I've watched and cheered on some of the greatest ever (including G.O.A.T. Tom Brady) in sports history. I fought through 12 seasons of field hockey, basketball, and lacrosse in high school, but it was my passion for lacrosse that I brought with me to college. I was elected Salve Regina Women's Lacrosse Captain my Junior year, which has been the most rewarding and humbling experience of my life. When I'm not playing lacrosse, you may find me going up and down the aisles of a random grocery store, stalking my friends on social media, or playing with my pet parakeet, Rafiki.
I haven't run a road race since I was 8 years old. I know that doesn't sound right, but it is. My dad used to dress me in a matching sweatsuit to his- and I mean everything matching, down to the New Balance sneakers- and we'd run in the CVS 5K road race. That was about it for my running career, but my dad kept it going and eventually ran the Boston Marathon in 2010. So, when asked if he could break up the marathon experience into "phases", here is the breakdown:
Phase 1→ Decision Time and Training

Phase 2→ 1st 13.1

Phase 3→ Final 13.1

Phase 4→ The End/What Comes After
My experience at Gray Matter Marketing has been similar to one of a marathon. Let me explain:
Phase 1: Decision Time and Training
Like deciding to run a marathon, choosing where to be an intern is an extremely important decision. Basically, it decides your entire future- just kidding. Internships are awesome because as an intern, you're not expected to know what you want to be when you grow up. You're allowed to take everything in, see what specifically interests you, and follow any footsteps you can find, even if they seem too big. Anything you are putting 120+ hours into must be something you will enjoy and benefit from. Luckily for me, it was the easiest decision ever to choose Gray Matter Marketing after meeting them for the first time!
Training for a marathon is single-handedly the most important part. Many factors must be accounted for: learning how to pace yourself, getting to know your body's needs, and finding tips and tricks for making it all easier. At an internship, basically all you do is training. With Gray Matter, I have been training to be in a workplace culture with real-life tasks to be completed; though, I wouldn't really call it "training" in a work culture as positive and upbeat as Gray Matter Marketing.
Phase 2: 1st 13.1
The first half of a marathon is an emotional battle full of ups and downs. At first, you're running on adrenaline, feeling good, ready to tackle the miles ahead. The excitement is building, everyone is in good spirits, and you feel like a rockstar. On my first day at Gray Matter, this is just how I felt — I was ready to go, fully alert, and absolutely fascinated with everything going on around me. I felt nervous, too, of course, just as I'm sure marathoners do when they are standing on that start line — but those nerves immediately subsided when I learned how truly inviting and friendly everyone in the office is!
Phase 3: Final 13.1
Halfway down. Halfway to go.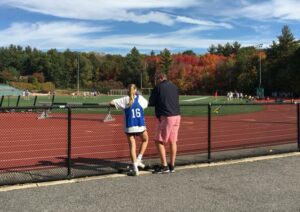 In 2010, all 12 of my cousins and I stood proudly on the sidewalks of Wellesley at the halfway mark of the Boston Marathon, boasting [poorly made] signs for my Dad. The excitement we were feeling was off the charts when we saw him coming- but the look on his face did not match ours. Our "halfway there!" signs threw him for a mental loop, thinking about how he would do what he had just done all over again; but, he persevered, and soon entered a positive mindset again, with support from us and all of the other runners.
I never had an "oh boy" moment like this as an intern, but I definitely had my fair share of stressful situations where I had to remain calm, cool, and collected. I was given some pretty cool tasks at events, my favorite being a traffic director at the Newport Marathon before being in charge of runner shuttles. I had to pay close attention to detail, be confident in my actions, and remain quick on my toes to make sure the event ran smoothly (no pun intended). There were times I wanted to throw my traffic vest into the dunes, disguise myself as a runner, jump into the street and start running; but, with endless support and guidance from everyone on the Gray Matter team, I always got back on track and remained on task!
Phase 4: The End/What Comes After
Since I've never run a marathon, I can't quite say how it feels to cross the finish line. I'd imagine it feels similar to when I won the putting contest against all the boys at Newport National golf camp as a kid — unforgettable. Finishing your first marathon opens so many doors to the future — you know you can do it, you did it.
Unlike marathoners nearing the finish line, I'm extremely sad that my time at Gray Matter is coming to an end.  I have learned such valuable lessons and taken in so much great information that I will carry with me when I enter the real world. I've crossed my internship finish line, and I am feeling so very accomplished. Aside from the running, I have gained so much knowledge in event management and creative marketing. The dedication and endless hard work that goes on in the office directly translates to the seamless execution of every Gray Matter event.
If I could, I'd stay a "student-athlete-intern" forever. My appreciation for this place is endless, and I am forever grateful for everything and everyone (especially the dogs!)