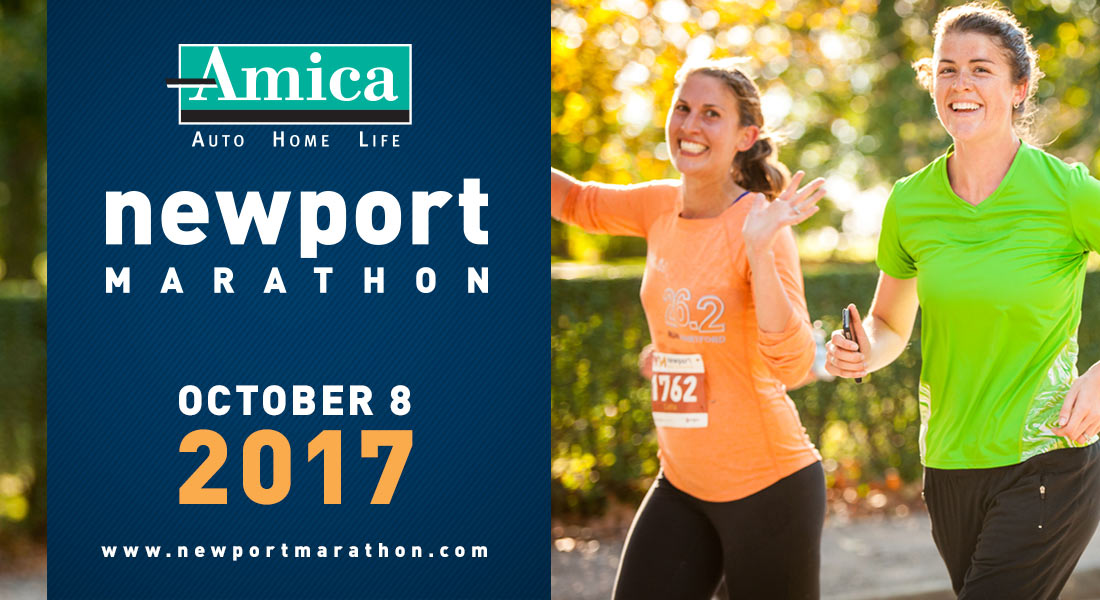 Gray Matter Marketing has announced that Amica Mutual Insurance Co. will become the title sponsor of the 2017 Newport Marathon and Half Marathon.  Recently named the "Best Half Marathon in the Northeast" by Competitor Magazine for 2016, the Amica Newport Marathon will be held on Sunday, Oct. 8, 2017, with more than 4,000 runners expected to participate.
"It is an honor to have Amica Insurance as a partner for this event," said Matthew Gray, president of Gray Matter Marketing. "Amica is synonymous with quality and customer service, which is what we strive for with every event we manage. Its national reputation as an industry leader in auto, home and life insurance, and its generous support of the Rhode Island community, will add tremendous value to these races."
"We are excited to sign on as the title sponsor of the 2017 Amica Newport Marathon," said Julie Montalbano, corporate events and charitable giving manager in Amica's corporate communications department. "We look forward to working with Gray Matter Marketing to support this wonderful fall tradition."
The Amica Newport Marathon features a full and half marathon race using roads in both Newport and Middletown, Rhode Island. Since 2015, this event has raised more than $125,000 for local charities, including $100,000 donated directly through race proceeds. The official charity partners for the Amica Newport Marathon include the Ronald McDonald House of Providence, Boys Town New England, the Dr. Martin Luther King Jr. Community Center, Aquidneck Land Trust, Clean Ocean Access and the YMCA of Newport County.
For more information about the event, please visit www.newportmarathon.com.
About Gray Matter Marketing
Gray Matter Marketing, LLC is an award-winning marketing and event management agency based in Portsmouth, Rhode Island. Founded in 2012, the company is known for producing best-in-class events, exceptional customer service and creating economic and social impact through events. A portion of every entry fee or ticket sold at every GMM event benefits local charity. For more information on Gray Matter Marketing, visit www.graymattermarketing.com.
About Amica Insurance
Amica Mutual Insurance Co., the nation's oldest mutual insurer of automobiles, was founded in 1907. The company, based in Lincoln, Rhode Island, is a national writer of auto, home, marine and umbrella insurance. Life coverage is available through Amica Life Insurance Company, a wholly owned subsidiary. Amica employs more than 3,700 people in 44 offices across the country. For more information, visit Amica.com.