9th Annual Citizens Bank Pell Bridge Run Recap
[fusion_tb_featured_slider show_first_featured_image="yes" hover_type="none" lightbox="no" hide_on_mobile="small-visibility,medium-visibility,large-visibility" /]
While many Rhode Islanders remained cozy in their beds on Sunday morning, more than 3,100 runners and walkers crossed the Claiborne Pell Bridge on foot during the ninth annual Citizens Bank Pell Bridge Run. All of the proceeds from this local-favorite event are donated to non-profits, and participants are encouraged to fundraise on their own as well. While final numbers are still being tallied, the total will be well north of $100,000 in charitable contributions.
Buoyed by a gorgeous sunrise and mild temperatures, runners and walkers were all smiles as they completed the 4-mile course. The run/walk, which starts in Jamestown and brings participants over the Pell Bridge and into Newport, boasted its signature, stunning views of Aquidneck Island and Narragansett Bay. The Citizens Bank Pell Bridge Run is the only day of the year pedestrians are permitted on the bridge. The event hosted by the Rhode Island Turnpike and Bridge Authority Foundation and is produced by Gray Matter Marketing.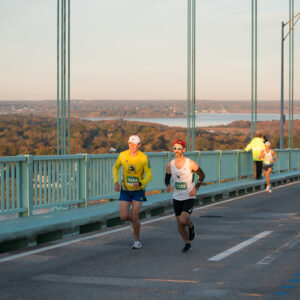 Chris Garvin, from Kingston, RI won the race in a speedy 20 minutes and 13 seconds. "I can't imagine a better day for this race, it was unbelievably beautiful," said Garvin after his finish. "I ran the race for Clean Ocean Access, a really great organization, and I'm proud to be representing them today."
Alex McGrainer, from Allston, MA was just a few steps behind Garvin, finishing in 20:40. Bristol, RI's Kaden Silva finished third at 20:56
Kelley MaGill from North Kingstown, RI broke the tape for the women in 24:35. Katharine Rosenfeld, from Westport, MA was second overall for the women at 26:07, and the women's podium was rounded out by Sutton, Massachusetts' Jaqueline Shakar in 26:15.
Finishers ranged in age from 5-year-old Pearl Baker, to 86-year-old Francis Taylor. Teams from local and regional nonprofits and running clubs came out in force in matching jerseys and costumes.
An event of this scale would not be possible without the support of sponsors, first responders and volunteers. The Rhode Island Turnpike and Bridge Authority and Gray Matter Marketing would like to extend thanks to the Newport Police Department, Jamestown Police Department, and the Rhode Island State Police for providing key support during the race. Title sponsor Citizens Bank continues to make the Pell Bridge Run a success year after year. Sponsors Keville Enterprises, Polar Seltzer, Newport Shipyard, WSP, Liberty Donuts, Hotel Viking, Discover Newport, Run Newport, NPT Healthworks, Lululemon Newport, Sole Desire, Ragged Island Brewing Company, Brick Alley Pub, Gurney's Newport, Hippeas Snack, Fagan Door, Griff Electric, Diegos Newport and Diegos Barrio Cantina are incredible supporters of the event.
For a full list of supported non-profits, results, and photos, visit www.pellbridgerun.com. A date for the 2020 Citizens Bank Pell Bridge Run will be announced soon.