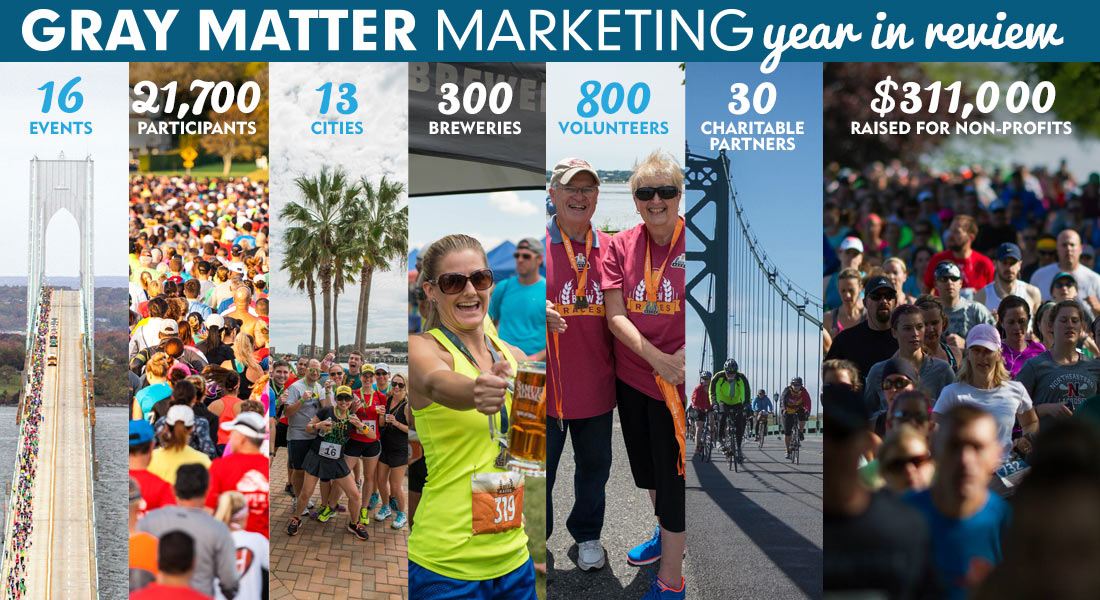 As we cross the finish line in 2015, we felt it was appropriate to look at the course we conquered this past year. All told, it was a banner year for Gray Matter Marketing as we added several new events, traveled to many new markets, and helped raise a record amount of money ($311,000) for local non-profit organizations.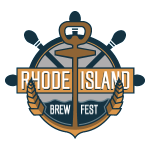 The first event in 2015 was the third annual Rhode Island Brew Fest. And for the third straight year, the festival was a sold-out success. The January 29, 2015 event shone a spotlight on local Rhode Island breweries, and resulted in a $3,600 donation to the Rhode Island Brewers' Guild.
In March, the Craft Brew Races season started with a trip to Savannah, Georgia. On a warm Sunday afternoon, streams of runners and beer-lovers alike came poured over to the Savannah International Trade Center for the inaugural event. Featuring a lineup of up-and-coming Georgia breweries, combined with fresh releases from acclaimed craft breweries, there was plenty of beer and cheer.  Held just prior to St. Patrick's Day weekend, the Craft Brew Race was either a great way to jumpstart the week's festivities, or momentarily escape the revery happening elsewhere in the city.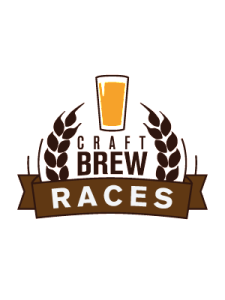 In the spring, Gray Matter Marketing partook in various consulting work, including the launch of The Flatworks, LLC. Started by a pair of local engineers-turned-entrepreneurs, the Flatworks produce wooden go-kart kits that ship flat and come to life using household tools. Our project consisted of brand creation, logo design, a shiny new website, and a full-fledged public relations blitz. The result? A wildly successful Kickstarter campaign, international press coverage, and go-kart kits in the homes of many happy hobbyists.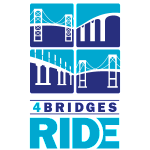 As the weather turned warmer, it officially became bike riding season. The Gray Matter team, in conjunction with the Rhode Island Turnpike and Bridge Authority, held the third annual  4 Bridges Ride, a relaxed bicycle ride over the Verrazzano, Pell, Sakonnet and Mt. Hope Bridges connecting the State of Rhode Island and Providence Plantations. The event served to raise funds for Save The Bay, in recognition of their efforts to protect the area's vital waterways.
Soon the summer season hit and we hit the road, holding seven more successful Craft Brew Race events in Stowe, Vermont, Portland, Maine, Newport, R.I.,  New Haven, Conn., Worcester, Mass., Boulder, Colo., and Cape Cod, Mass. These events drew thousands of fans to experience what has been called "One of the Best 5ks in the Country" (The Active Times) and one of the country's "Can't-Miss Craft Beer Races" (Runner's World).
Perhaps it was the beautiful course, the photo-worthy finish in Fort Adams State Park, or even just the perfect weather that drew more than 3,000 people for the Newport 10 Miler. Whatever the reason, this sell-out event was by all accounts a smashing success. The event raised more than $14,000 for the Fort Adams Trust.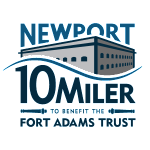 What could be better than an ice-cold beer on Cape Cod? Only a craft beer fest on Cape Cod! Featuring more than 75 breweries and 250 styles of beer, the fourth annual Cape Cod Brew Fest on September 26 attracted 2,250 attendees.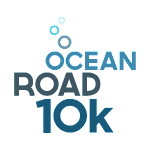 Held on October 4, the Ocean Road 10k drew 1,000 runners to experience one of the area's best 10k road races. A point-to-point race beginning at Point Judith Lighthouse and ending at Narragansett Town Beach, this beautiful run raised $5,000 for the Narragansett Historical Society.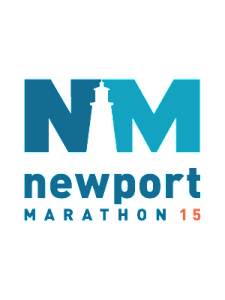 26.2 miles is not just a distance, but a milestone. Not only a colossal undertaking, but an opportunity to accomplish a tremendous achievement. In our first year organizing the Newport Marathon, more than 2,500 participants accomplished their dream of completing a marathon or half-marathon.  All told, Gray Matter donated $50,000 to five local charities, as participants raised an additional $15,000 making for a most rewarding day.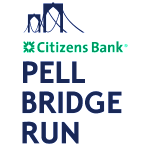 The season concluded with 5th annual Citizens Bank Pell Bridge Run on October 25, 2015. More than 3,500 walkers, runners, athletes and families took advantage of the only opportunity to cross the iconic Pell Bridge on foot. Logistically, the race presents unique challenges and we are thankful for the support of the R.I. Turnpike and Bridge Authority, State and local police, and the 200+ volunteers who worked diligently to make the event a success. This annual event keeps growing on the charity side as approximately $180,000 was raised for local non-profits including the Dr. Martin Luther King Jr. Community Center and Special Olympics of Rhode Island.